Long hair will always be in fashion. You can create so many different varieties of hairstyles when you have hair that's below the shoulders or longer, in comparison to shorter hair that limits you to wear it almost the same way every day.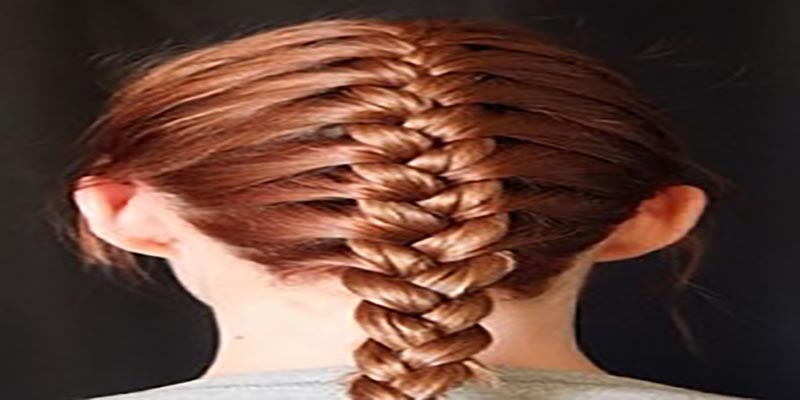 This is why many women like to grow their hair, but many often encounter problems like split ends, breakage, dry hair and so on. While there are so many products on the market to prevent these problems, I would suggest using a protective style. This way in the long run, you will save a lot of money by not buying over-priced hair masks and conditioners, you will manage to save your hair from damage and get the results your looking for, at a fraction of the cost.
So, what is a Protective Style?
Everyone knows that to get long and healthy hair, you need to maintain a healthy diet, protect your hair from heat, (including the sun) and wear it in a protective style, at least for the period while you are growing it. A protective style is when your hair is not worn loose, but its ends are tucked away on the inside, in a braid or similar. So why are protective styles so important? Well, they save your ends from splitting and breakage, so you don't have to go to the hairdresser quite so often, thus allowing you to grow your hair more quickly.
When Do You Need Protective Styles The Most?
Whilst growing your hair:
You've Probably figured out by now that protective styles are a must when growing your hair. This is because the ends of the hair are the oldest part of it, and ultimately the driest. They have been over-exposed to heat, dry air, brushing and so on, so it is normal for them not to be as strong as the rest of the hair.
During the summer months:
Hot weather, burning sun, and salty water are all bad news for your hair. We all want to look fancy at the beach, sipping cocktails whilst the wind is blowing our beautiful shiny hair, but we don't realize how much damage we are actually causing to our hair, over-styling it every day. Even if you don't style it, meaning you don't use a hair straightener or curler, the three bad boys mentioned above are enough to cause split ends, which only a pair of scissors can fix. It's recommended to wear your hair in a protective style for at least 2 out of the 3 months during the summer period. You will be amazed how quickly your hair will grow, the difference in softness will also surprise you.
The Colder winter months:
While there is no hot burning sun or salty beach waves to damage your hair in December (unless you are an Aussie) there sure is the cold wind and dry air, that's just as bad when it comes to the health of your hair. Cold, dry air damages your hair greatly and there's nothing you can do about it. At least nothing when it comes to using products. But, on the other hand, if you choose to wear your hair in a protective style, you will ensure it doesn't get too damaged.
Just because:
Protective styles will always be in, and honestly, you don't really need a reason to wear them. There are so many options (mentioned below), that if you commit to changing your protective style once every couple of weeks it will take years to run out of ideas. Namely, if done right, the style can last from 2 to 4 weeks and still look fresh and fancy.
Here are some of the most popular Protective Styles of the many you are able to find on the Internet, have fun, and experiment a little!
• Havana Twists
• Faux Locs
• Ghana Braids
• Box Braids
• Crochet Braids
• Custom Wig
• Double Halo Braid
• Short Twists
• Short Braids
Whatever your style is, make sure it's protected and your hair will surely thank you for it!